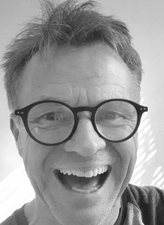 Who, what and why?
Hello. My name is Derek Jones or to those who know me just "Del"
For more than 30 years I have worked in the entertainment industry as a stage and television lighting designer and loved every minute of it. I have had a great time. I have met some wonderful people and visited some really exciting places. Check out my lighting website for a taste of what I do.
Here is a short story that was used to identify my "voice signature" which tells the tale in just over a minute about how I got here. Or you can just check out my demos.
Based on the Isle of Wight, I have a fully functional setup using the latest hardware and software to produce high-quality recordings. Connected with hi-speed fiber internet I can send and receive your audio and video content, and provide a quick turnaround.